Ibiza and the UK are home to the world's favorite clubs. A study by DJ Tech Reviews reveals that Ushuaïa, Pacha y Ibiza Amnesia are three of the most valued discotheques in the world.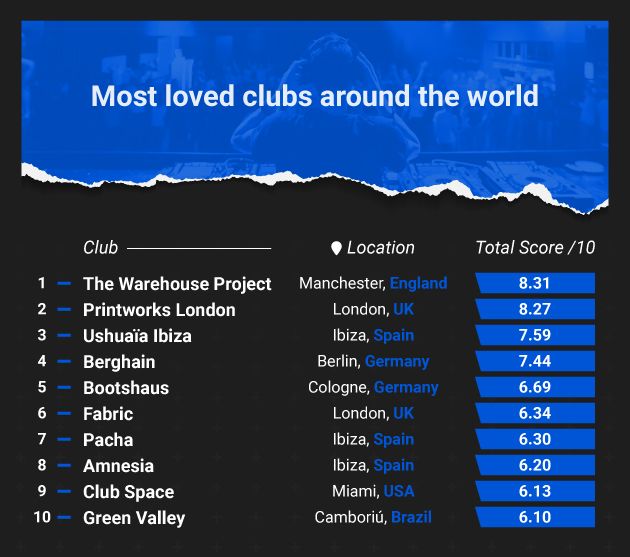 Manchester's Warehouse Project heads the ranking as the world's favorite nightclub, with an overall score of 8.31/10. This club has over 81 million views on TikTok and has also experienced a sharp rise in popularity, with Google searches for the venue increasing by 105% since 2019. The Warehouse Project has hosted a number of internationally renowned DJs, including Carl Cox and Annie Mac, as well as musicians such as Happy Mondays, The Prodigy and Disclosure.
The iconic printworks London club is the second favorite place in the world for clubberswith an overall club score of 8.27 out of 10. It is one of the most prestigious electronic music venues in the UK. It so happens that Printworks will close its doors in May 2023 due to the building being converted into offices. This triggered a petition to try to save the venue, which is currently signed by 11,900 people; however, the building is set to say goodbye in May. The venue will host a Radio 1 dance event for its final weekend, where DJs such as Black Coffee, Maya Jane Coles and Danny Howard will say goodbye to the venue after six years.
Ushuaïa Ibiza is in third place in this ranking with a score of 7.59. From DJ Tech Reviews they define it as "one of the most prestigious clubs on the white island", which is "known for its extravagant pool parties during the day, with some of the best DJs in the world". Artists such as David Guetta, Calvin Harris and Nic Fanciulli will be playing at the venue this summer, welcoming electronic music lovers and partygoers from around the world.
The Most Beloved
Ushuaïa is the most loved nightclub on TikTok, with an incredible 101.8 million views on the platform. In addition, it has the highest number of followers on Instagram in this top tenwith 840,000, although not of all the clubs analyzed in this study, which details that the club has 223,005 tagged posts.
It has also experienced a sharp rise in popularity, with Google searches for the site increasing by 419% since 2019. On Google review score it has a 4.1 out of 5 and an overall score of 7.59.
In seventh place is Pacha Ibizawith 15,000,000 views on Tik Tok, 334,000 followers on Instagram and 18,356 posts tagged on Instagram. It is up 38% in Google searches and has a Google review score of four out of five. Cherry Disco gets with these metrics an overall score of 6.3.
Finally, Amnesia ranks eighth in this listing with 47,800 views on Tik Tok, 504,000 followers on Instagram and 123,0039 posts tagged on Instagram. The increase in Google searches is 32% and the Google review score is 4.1. The overall score given by this study is 6.20.
Other clubs that compete this listing are Berghain in Berlin, the fourth place; Bootshaus in London (fifth place); Fabric, London (sixth place); Miami Space Club (ninth place) and Green Valley in Camboriú (Brazil) in tenth place.
On national territory, it should be noted that Elrow, Barcelona is the most followed nightclub on Instagram with just under one million followers (949,000).